SHOWER TROLLEY TR 3200
Multi-tasking battery operated shower trolley with endless application possibilities. It enables a safe and ergonomic working position for the healthcare professionals.
The TR 3200 shower trolley (max patient weight 230 kg/500Ibs) is unique with its side dual mounted columns, allow­ing the trolley stretcher to overlap the shower bed further for a safe and easy resident transfer.
The trolley drains at both ends allowing the person to be positioned in either direction, an invaluable feature for the caregiver.
The TR 3200 comes in two sizes, and both versions are available with on board battery solution or with removeable rechargeable batteries. Complete shower trolley IPX5.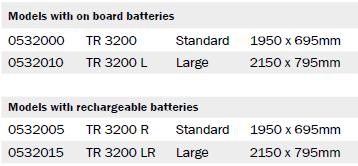 All TR 3200 models comes delivered ready for use with a MagCode charger, mattress, head pillow, 4 braked castors and 1 m flexible drainage hose.